The Requirements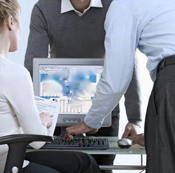 To be a good fit for the role of Page Producer, you will have:
A bachelor's degree in Journalism, Graphic Design or a related field, OR an equivalent combination of education and experience
Three or more years of industry-related experience
Three to six years of pagination software experience (InDesign/QuarkXpress/TeX LaTeX)
Strong working knowledge in pagination and template creation
Excellent communication skills, both verbal and written
Demonstrated high-attention to detail, including proofreading and accuracy checking Quick question for you - click here
An understanding of production timetables and a demonstrated ability to meet deadlines
Demonstrated effective use of resources to produce high-quality, cost-effective content
The ability to recognize and anticipate obstacles in the content delivery process and work actively to provide remedies
Strong news judgment
The desire to be a team player and the ability to work well in a collaborative environment, but also work independently on your assignment
Proficiency with MS Word
The ability and willingness to work a schedule that could include nights, weekends, and holidays
The Role
As Page Producer, you will be responsible for preparing pages for production, ensuring quality control, and meeting all print deadlines. You will be assigned pages, up to ten per night, ranging from news to sports to special sections, and more.
You'll leverage your great eye for design along with your commitment to speed, quality and accuracy in order to:
Create pages, add folios, dates and other essential items to pages to prepare for production. Quick question for you - click here
Create, edit, assemble, lay out and produce production-ready pages.
Write headlines, copy edit and fit lengths.
Work with curators and designers / graphic artists to finish pages.
Make corrections to pages during the production and post-proofing process.
Ensure print deadlines are met 100% of the time.
You will join a team with a strong mix of highly-experienced professionals and those newer in their career, allowing you the opportunity to expand your skills while working alongside some of the best in the business and others hungry to learn. You'll have plenty of opportunity to prove yourself and your success will be noticed. Demonstrate you are a star and you could earn the opportunity to produce the front and other high-profile pages.
To support the printing schedule, you will regularly work afternoons and/or evenings during the week and one weekend day. You should, however, remain flexible and able to work additional hours to ensure deadlines are met and all shifts are covered.
Note: this description is intended to give you a general overview of the position and is not an exhaustive listing of duties and responsibilities.
Keys to Success
While page production will be your core responsibility, heads-down artistry will not be enough to find success in the role. Beyond your pagination skills, you'll need to be exceptionally detail-oriented, have strong learning agility, and excellent interpersonal abilities. In addition, you will always be dedicated to meeting deadlines; speed will be of the essence.
Things can change quickly as a newspaper is coming together, and layouts are not final until the paper is printed. Sometimes, new advertising copy will come in and need to be placed at the eleventh hour. You should be able to place the new copy while remaining calm and aware of the very tight news hole or other restrictions.
To be an outstanding Page Producer, you'll look for solutions and work well as part of the team of contributors essential to the producing a top-notch paper. You should be able to work well with curators and artists, actively contributing to problem solving. That does not mean you'll be dictating what should be done, but rather leveraging your interpersonal finesse and strong eye for design to contribute to solutions.
Quick question for you - click here